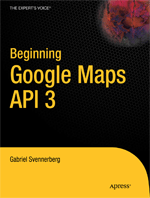 It's only a week until my book is available for purchase! It was originally scheduled to be released on August 15th but the process of producing the book has gone really well so Apress decided to publish it a whole month earlier. So mark July 15th in you calendar cause that's when it's finally coming out!
A new title
The title of the book has changed slightly, from Beginning Google Maps Applications to Beginning Google Maps API 3. I think the new title better reflects the content of the book. It's after all about version 3 of the API.
The chapters
The book finally weighed in at 279 pages and consists of 10 chapters and an Appendix. I think that the chapters cover pretty much everything you need to know to develop your own map solutions. Here's a complete list of them all:
Chapter 1: Introducing the Google Maps API
Chapter 2: Transferring from Version 2 to 3
Chapter 3: Creating Your First Map
Chapter 4: Taking the Map Further with MapOptions
Chapter 5: X Marks the Spot
Chapter 6: Marker Icons
Chapter 7: InfoWindow Tips and Tricks
Chapter 8: Creating Polylines and Polygons
Chapter 9: Dealing with Massive Numbers of Markers
Chapter 10: Location, Location, Location
Appendix: API Reference
Buying the book
I can't even begin to describe how excited I am that my book is finally finished! It's taken me over a year to complete it but oh how good it feels right now! If you're interested in buying it, it's available for pre-order at Amazon.com and a week from now, it will be available for purchase.
I hope that you'll enjoy it as much as I've enjoyed writing it!