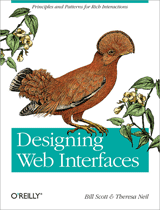 Designing Web Interfaces is a book about how to design rich interactions within web pages. In todays web with richer user interfaces, far from the static, full page load web applications we were once used to. We need patterns, guidelines and best practices on how to design those Interfaces to work well. This book is about just that.
The authors
Designing Web Interfaces is written by Bill Scott and Theresa Neil. Bill Scott has a background at Yahoo! and is currently working at Netflix. This shows in the examples of design patterns since a lot of them is taken from these companies websites.
Theresa Neil is a User Experience consultant located in Austin, Texas. She has worked with Bill before at Sabre Airline Solutions to form their User Experience team.
Organization of the book
The book is organized around 6 design principles. For each principle a number of design patterns are explained. The principles are:
Make it direct
Keep it Lightweight
Stay on the Page
Provide an Invitation
Use Transitions
React immediately
At the Explore the book section at the books companion site there's a short explanation of each principle as well as a presentation of the design patterns presented in each chapter. So if you want to know more about what the book is all about I suggest you look there.
At several places in the book the authors references to About Face 3
by Alan Cooper. I like that since I think that's an indispensable book that every Interaction Designer should read.
My take
I think that this book serves both as an inspiration in finding the right design patterns for the projects I'm working on as well as a deeper understanding of the underlying core principles when choosing and designing interaction elements. It has certainly provided me with a deeper understanding of the ins and outs of drag and drop interactions which is thoroughly examined in the book.
The book is well written, contains lots of illustrations and generally provides really good examples. If you're designing/building highly interactive web sites or is interested in learning more about web design patterns, I'm certain that you will benefit from reading this book. I highly recommend it!
Resources
The books companion site is located at www.designingwebinterfaces.com. There you'll find more information about the book, as well as links to other resources about design patterns.
Book information
Title:

Designing Web Interfaces: Principles and Patterns for Rich Interactions

Author:

Bill Scott and Theresa Neil

Publisher

O'Reilly Media, Inc.; 1 edition (January 30, 2009)

Pages_

332

ISBN

0596516258

ISBN-13

978-0596516253
Buy from Amazon.com