I've compiled a short list of book on usability and UX design that I've found both valuable and inspiring. All of these books have given me important insights and helped me to better understand the different aspects of the area.
I've listed them in the order I think one should read them and I've also written a small text about each.
1. The Inmates are Running the Asylum
by Alan Cooper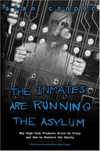 This book is not a how-to-book but rather a book about what's wrong with how we look at software/web development. It's suitable not only for designers and developers but everyone that's involved in the development process. Everybody from project owners and project leaders to interaction designers and programmers.
It was a real eye-opener for me back when I first read it and made me reconsider my whole attitude towards the industry and the processes that drives it. This book was what really started my passion about creating good user experiences.
I wish more people would read this book as it gives a whole new perspective on the business of creating software. I think it would enable people in different roles to communicate more effectively and have a better understanding of each others work and priorities.
The Inmates Are Running the Asylum

Author: Alan Cooper
Publisher: Sams – Pearson Education, 2004
ISBN-10: 0-672-32614-0
ISBN-13: 978-0-672-32614-1
2. Don't Make Me Think
by Steve Krug
I really love this book. It's written in a fun and engaging way and is also pretty short, making it shock full of valuable tips and insights. Steve Krug has a really pragmatic attitude towards interaction design and usability, making his points understandable for everyone. Or as he himself puts it: "It's not Rocket Surgery".
If you're looking for a good introduction to usability and usability testing. I can't think of a better book than this.
Don't Make Me Think

Author: Steve Krug
Publisher: New Riders Press; 2nd edition, 2005
ISBN-10: 0-321-34475-8
ISBN-13: 978-0-321-34475-5
3. The Design of Everyday Things
by Donald Norman
Donald Norman is a true giant in the field of usability. This book is a classic and an essential read for anyone working with user interface design.
The Design of Everyday Things is not so much a book about software design, but a book about how people perceives the world and interacts with it. He talks about everyday objects like doors and water taps and what makes them easy or hard to use. It's a lot about how the human brain works and how we interpret different objects according to how they look and feel.
I promise that you'll never look at a door the same way after reading this book. At least I didn't. 🙂
The Design of Everyday Things

Author: Donald A. Norman
Publisher: Basic Books, 2002
ISBN-10: 0-465-06710-7
ISBN-13: 978-0-465-06710-7
4. About Face 3
by Alan Cooper, Robert Reimann, and David Cronin

About Face 3 with the subtitle The Essentials of Interaction Design is sort of the sequel to The Inmates are Running the Asylum. Where the latter book have more of a business perspective on usability this book is about how to actually put those ideas into action. Alan Cooper is a strong advocate for User Centered Design (UCD) and was the one coming up with the concept of personas. Which, as a side note, was first introduced in The Inmates are Running the Asylum.
The book is divided in three parts where the first part, "Understanding Goal-Directed Design", deals with how to research the needs of the users and how to use this information to create usable designs. The second part is about "Designing behavior and form" and the third part is about "Designing Interaction Details"
I think that the first part of the book is the most valuable one. It provides you with the tools to perform effective user research, and how to analyze the gathered data. It also provides fundamental insights into what kind of different users there are and what different needs they have.
The two other parts is more of best practices when it comes to the actual design of interactions. One thing that's really useful is the lists of "Design Principles" that is compiled in a single list at the end of the book.
About Face 3
Author: Alan Cooper, Robert Reimann, and David Cronin
Publisher: Wiley 2007
ISBN-10: 0-470-08411-1
ISBN-13: 978-0-470-08411-3
5. Designing the Obvious
by Robert Hoekman Jr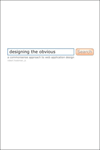 The dominant usability method right now is User Centered Design (UCD). Lately there's been an intense debate over at IxDA wether it's a good practice or not. Robert Hoekman Jr is one among others that believes that it's not such a good approach. He has introduced his own concept which he calls, Activity and Behavior Centered Design (ABCD), which he describes in the three part article: Redefining User-centered design [1] [2] [3]
In Designing the Obvious he doesn't talk about ABCD but he does present seven principles of interaction design that has proved useful in his own work. This book is really nice in its pragmatic approach and will provide you with tons of good advice and a lot of good examples of great design.
I liked it so much that I've read it twice!
Also read the review I wrote on his latest book: Designing the Moment.
Designing the Obvious

Author: Robert Hoekman, Jr.
Publisher: New Riders 2007
ISBN-10: 0-321-45345-X
ISBN-13: 978-0-321-45345-7
All of these books have been important for me in my understanding of usability and UX design and I highly recommend all of them. What do you think? Have you read any of these books or other books that you think are essential reading for people working with these things?