Mozilla has just released the much anticipated version 3 of their popular web browser, Firefox (june 17 2008). In this article I will summarize my first impressions and highlight some of the new features and improvements.

Enhanced address bar
The address bar is much more intuitive than before. You can now filter the web sites you've visited or bookmarked by just typing relevant words. Like for example when I type the word "Web standards" I get these results:

This is a really great improvement which I instantly fell in love with. It makes the address bar a lot more useful and saves a lot of time finding the right link.
Bookmarks
By clicking at the star in the address bar, you easily bookmark the current page. By clicking the star again you can edit and organize the bookmark. You can also tag the bookmark, making it easier to find. When you, for example, type the tag in the address bar, the bookmark appears in the list.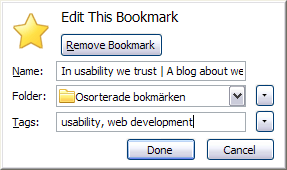 The Library
The library is a collection of bookmarks and your browsing history. It let's you organize and search for links. You can also store the result of your search in a Smart Bookmark Folder, which updates automatically as more links get added. This might be an useful feature if you have lots of bookmarks and have a hard time finding the right ones. Personally I think that I will use the smart address bar most of the time. It's more easily accessed and a lot faster to use and will probably suffice in most cases.
New text zoom
The new text zoom is zooming the whole page rather than just the text, much like IE7 does. Personally I prefer the old way where only the text changes size. I don't know why they choose to implement it this way, but in my mind I think it's a mistake. I just don't see the advantage of blurred and pixelated images and forcing the user to scroll sideways.
Update [2008-06-27]: I've now noticed that it's possible to choose which zoom style you prefer. The default is zoom of the entire page, but if you choose "Zoom" in the "View" menu, you can check the option "Zoom Text Only" and revert back to the old Text Zoom mode. (See image)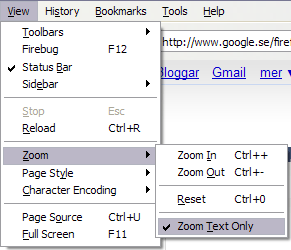 Password manager
The password manager have been changed from a modal dialog to a non-modal bar that appears at the top of the page not blocking the new page to display. This might seem like a small change, but I think that it's one that makes the browsing experience more fluid.

Integrated add-ons manager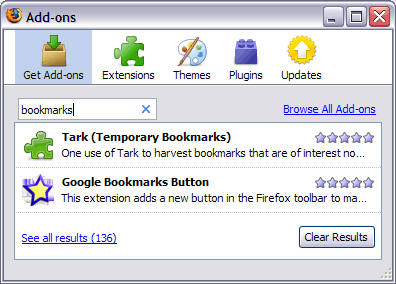 It's now possible to find new add-ons without having to go to a separate page. When I tried it, I didn't find the add-ons I was looking for. So I ended up having to click the link: "See all results" which leads to the add-on page at Mozilla. This just forces me take unnecessary steps on my way to find the right add-ons. My impression is that this is a feature that will need some more tweaking before it becomes really useful.
Added support for standards
Firefox 3 also have improved CSS support, native support for microformats, Javascript 1.8 support and much more. Although exciting stuff, I have to look deeper into these before writing anything about it.
Summary
Overall Firefox 3 have some really good new features, especially when it comes to managing bookmarks and finding the right links. The features I described here is of course just a few of many. To see them all visit Firefox features.
When it comes to performance, my first impression is that it doesn't feel any faster even though the Firefox team claim to have much better memory management and other improvements to speed up the browser. More use and tests will probably tell if it's faster or not.
What is your first impressions of Firefox 3?
Related resources