This is my personal site where I write about what currently interests me. It could be anything related to UX Design or Web development but occasionally about completely unrelated topics.
Meetod
During the days I run a small consultancy called Meetod where I do things like designing iPad apps and creating state of the art Web Apps. As you might have guessed I have a strong focus on the User Experience which is something that shines through in the projects where I'm involved.
If you're interested in hiring me don't hesitate to contact me through the contact page.
Code Crafting Blueprints
Besides writing here, I also write about webdev best practices on a site called Code Crafting Blueprints which is a side-project I run with my good friend Ola Karlsson. Ola is a brilliant web developer and Ruby on Rails guru.
Google Maps Book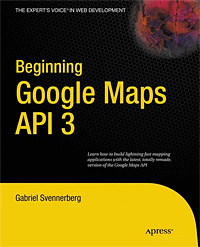 At one point I was very in to the Google Maps API and wrote a lot of articles and tutorials about it here on In usability we trust. That eventually lead to me writing a book about the then newly released version 3 of the API. The book is called Beginning Google Maps API 3 and is published through Apress. You can read more about it on my book page.
Beginning Google Maps API 3 is available for purchase from Amazon.com.
My social networks