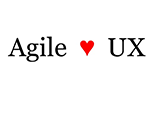 I was giving a talk on Agile UX at Lean Tribe Gathering 12 the other day. It was a nice event which included several great talks that inspired lots of interesting discussions. In my talk, named UX ♥ Agile, I shared some of my experiences trying to incorporate UX work into an Agile environment.
Scrum
I have mostly worked with Scrum, which I think is a great methodology for developing software. It brings a whole lot of good practices to the development process of which I think the most important is to bring the customer and the ones actually implementing the code closer to each other. Scrum really encourages better communication throughout the whole board.
UX brings value to the process
Allthough Agile is great a delivering software it lacks one important ingredients in creating successful product and services, the user. That's an area where UX Design can bring a lot of value to the process. Great User Experiences doesn't happen by accident. They happens because of focused efforts and that means bringing User Centered practices into the mix.
Agile and UX can definitely play nice together but there are no firm rules or definite best-practices on how to do it.
My talk
The talk was recorded and is available on YouTube. The presentation is available on SlideShare.
The Video
The Presentation
About Lean Tribe
Lean Tribe Gathering 12 was organized by Lean Tribe which is an organization that encourages discussions about Lean and Agile.