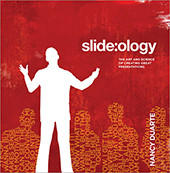 As one who performs presentations on a regular basis it's interesting to read books on presentation techniques. Slideology is one such book and it's been widely praised, so I was very keen on reading it to see what the fuzz was about.
About the author
The author of the book, Nancy Duarte, runs a company called Duarte that's in the business of creating compelling presentations for their clients. They're famous for creating Al Gore's presentations for An Inconvenient Truth which was something that definitely showed the power of great use of presentation software.
Highly acclaimed
Since this book is widely praised in a lot of reviews I had pretty high expectations when I started reading it. Maybe that's the reason I'm not so impressed with it. I found it pretty light on substance and I'm not sure it has added a lot of value to my slide creating skills.
The book touches on basic design principles and presentation skills. I'm sure if you're a design noob that there's a lot of nuggets to be found there, but if you have some design skills, it's all very basic.
The format
The book is very "designed", something I quite enjoy and I'm sure works very well in the physical book. The problem I had was that I read the e-book version in pdf format and the square format of the book with lots of design elements made it hard to read. I had to constantly zoom in on parts of pages to be able to read the text which made the reading experience less than ideal.
Summary
All in all I think it's an OK book, which obviously a lot of work went in to creating. If you're a non-designer you will probably find useful information that will make your slides better. But if you're like me and have some experience in design and creating slides, you will find it very basic. That said you might still enjoy the design of the book and all the lovely examples in it. But in that case I recommend you get the physical book, because the e-book version is really not adapted for the format.
Book information
Title:

slide:ology: The Art and Science of Creating Great Presentations

By:

Nancy Duarte

Publisher:

O'Reilly Media; 1 edition (August 12, 2008)

Pages:

296

ISBN:

0596522347

ISBN-13

978-0596522346
Note: I wrote this review for O'Reilly's Blogger Review Program. Their deal is pretty good: You get a free e-book to read and once you post a review you get another. Try it yourself if you're interested in reviewing books.