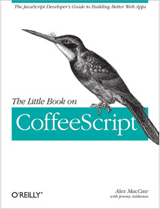 This book is a great introduction to the beautiful pseudo JavaScript language CoffeeScript. It's written by Alex MacCaw that is also the author of JavaScript Web Applications, a book I reviewed a few month ago.
So, what is CoffeeScript?
CoffeeScript is a programming language that compiles to regular JavaScript. What's great about it is its concise syntax and the fact that it hides away some of JavaScript's more ugly sides. It's inspired by script languages such as Ruby and Python which both has a very terse syntax.
In short it's a great way to efficiently write clear and maintainable code.
CoffeeScript has gained a lot of traction lately and has proven to be a more productive way to write JavaScript than to just write raw JavaScript. Ruby on Rails 3.1 for instance uses CoffeeScript by default. If you're on the Microsoft .net platform, there's several Extensions and NuGet packets available. You can also easily run your own complier whatever platform you're on either via Node.js, Ruby Gem or JavaScript (There are probably even more ways).
What about the book
The book is short, only 60 pages, but manages to clearly explain how to use the language with well explained examples. Before reading this book I had not written any CoffeeScript code, but I was curious about it. It has kept coming up in lots of articles and tutorials lately plus the fact that the creator of CoffeeScript, Jeremy Ashkenas, is also the creator of Backbone.js and Underscore.js which are two libraries that I use extensively in my projects. Reading this book has given me a nice introduction which have enabled me to quickly get started using it in a project.
The author, Alex MacCaw, has a clear writing style and explains the concepts through easy to follow examples that are thoroughly explained which makes the learning experience both enjoyable and efficient.
My Verdict
If you're interested in getting started in CoffeeScript this book is a great and quick way to get you up and running fast. Since it's only 60 pages long there's really no reason not to. I have a hard time imagining a faster way to get going.
The Little Book on CoffeeScript is Open Source and you can read it online at GitHub. If you prefer to read a the physical book or have it in e-book format you can buy a copy from Amazon.com
or from O'Reilly.
Book information
Title:

The Little Book on CoffeeScript

By:

Alex MacCaw

Publisher:

O'Reilly Media (January 31, 2012)

Pages:

60

ISBN:

1449321054

ISBN-13

978-1449321055
Note: I wrote this review for O'Reilly's Blogger Review Program. Their deal is pretty good: You get a free e-book to read and once you post a review you get another. Try it yourself if you're interested in reviewing books.