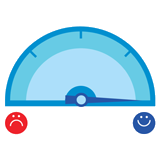 Google has recently launched a new site to encourage Mobile Friendly Websites. It's called GoMo and contains, among lots of useful information, also a test to see how mobile friendly your site is. I tested In usability we trust on it and I'm happy to report that it scored 4 out of 4 on the mobile-friendliness scale.
How big is the mobile web?
The amount of web pages that are being accessed by mobile devices is increasing day by day. In fact traffic to mobile websites in 2010 grew by 600%, the year before that it grew by 300%. In the last quarter of 2010 it out-shipped the combined global market of laptop, desktop and notebook computers This happened 2 years earlier than analysts had calculated. So it seems that the mobile web is really exploding and at an accelerating speed. (Statistics from Mobile First by Luke Wroblewski)
GoMo
With the background of these numbers it's not surprising that Google is encouraging companies and organizations to create mobile-friendly sites. After all, Google's entire business model is dependent on that people can use the web effectively.
If you not convinced yet, here are some more statistics from the GoMo site. For example:
"By 2013, more people will use there mobile phones than PCs to get online"
"Mobile Searches have grown by 4X since 2010"
"There will be one mobile device for every person on earth by 2010"
Source: GoMo – Reasons Mobile Matters
Test your site
I encourage you to test your own site on GoMo. Not the least for the fancy pdf report that you will get. You will also get personalized advice for your specific site as well as some best practices for building mobile websites.
Need help?
If you find yourself with a site that doesn't score so well on the mobile-friendliness scale, don't hesitate to contact me for a free quote. Maybe I can help you bring that score up.