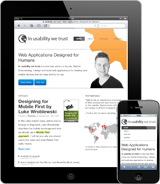 Lately I've been working on a redesign for In usability we trust. I'm almost there but still have a few things to work out before launching it. Nevertheless I wanted to share a sneak peak of its current look.
Reasons behind the redesign
There's several reasons for the redesign but the most important one is that I'm now an independent designer/developer. The role of this site is therefor switching from being just a blog to being the platform where I market myself and my services.
Another important reason is that the current design feels dated and frankly needs a radical makeover.
Responsive design
Responsive Design is the big thing in web design right now and I've used that approach in the new design. What it means is that the design will adapt to the context where it's displayed. So you get a slightly different design depending on if you're watching it on a big screen, on a tablet or on a mobile device.
The concept of Responsive Design was popularized by Ethan Marcotte who's written an excellent book called, Responsive Web Design, about it.
Using it on a desktop browser
Using the site on a big screen, it has generous margins and have a main content area as well as a sidebar.
Tablets and mobile devices
On Tablets the design is mostly the same. The only difference is that the outer margins are a bit tighter and that the main content area is less wide.
On mobile devices there's even less margins, the navigation is moved below the site logo and the content area fill up the whole width. Also the sidebar is moved to below the main content area.
When does it launch?
I expect to launch the new design during next week, so keep an eye open for that. I also plan to write an article on the principles of responsive design.
So what are your thoughts on the redesign? Don't hesitate to share them in the comments.