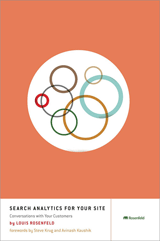 Search Analytics for Your Site is a great book that will teach you how to make the most of the searches people make on your site. Lou Rosenfeld has done a tremendous job describing how to approach this rich source of information about your users, and come out with valuable insights that will help improve your web site or Intranet.
About the book
This book is, as of now, the only book on the subject. There are plenty of books about Search Engine Optimization (SEO) and although Site Search Analytics (SSA) share common traits with SEO, the nature of searching on Google and searching on a sites local search is quite different. You'll see much more general search terms on Google than on a sites local search.
What's so interesting is that the term that people use on local sites will tell you something about how they think, what language they use and what they're interested in. This is valuable information that can help you better understand your audience and better cater to their needs.
What's in the book
The first section of the book describes what SSA is and provides a case study where SSA helped save a project. It will give you the basics of the topic and good advice on how to start applying it.
The second section is about different type of analysis to gain insights about your data. This will give you a toolkit where you can pick the appropriate tool depending on what insights your'e trying to gain.
The third section describes practical ways of using your insights to improve search, site navigation, meta data and content. It contains very good and practical things you can do to improve your site.
The last chapter looks at how SSA fits into the worlds of UX Design and Web Analysis.
Bridging the gap
A very interesting argument Louis Rosenfeld make is that SSA can actually bridge the gap between Web Analytics and UX Design. Because of the both quantitative and qualitative nature of the data, SSA will appeal to both parties. It can therefor act as a common ground for practitioners in the respective fields to collaborate their researching efforts.
About the author
Louis Rosenfeld has previously co-authored Information Architecture for the World Wide Web
, by many considered THE book on Information Architecture. He also runs Rosenfeld Media, a book publishing company dedicated to publishing great books on UX.
With Louis experience in the fields and his clear and entertaining writing style, this book is a pleasure to read. It contains lots of real-life examples and practices that makes the techniques described easy to apply in your own projects.
Conclusion
If your're interested in making good use of your search data, then this is the book to read. It reveals techniques that will give plenty of benefits for a pretty low effort. I highly recommend Search Analytics for Your Site for both Web Analysts and UX Designers, but also for Project Managers and others involved in creating information rich web sites or Intranets.
Book information
Title:

Search Analytics for Your Site

Author:

Louis Rosenfeld

Publisher:

Rosenfeld Media, LLC; 1st edition (July 6, 2011)

Pages:

224

ISBN:

1933820209

ISBN-13:

978-1933820200
Check out Search Analytics for Your Site on Amazon
Note: I wrote this review for O'Reilly's Blogger Review Program. Their deal is pretty good: You get a free e-book to read and once you post a review you get another. Try it yourself if you're interested in reviewing books.