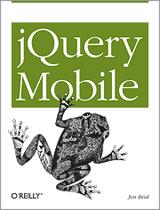 jQuery Mobile is a brief introduction to the Alpha 4 release of the mobile version of the popular JavaScript Framework. It's written by Jon Reid, senior developer at EffectiveUI, who's done an excellent job of describing the ins and out of it.
It's a short book, only 130 pages, that's easily read in one evening. It provides you with a quick introduction that will give you a kickstart using jQuery Mobile in your own projects. It starts with very basic examples and ends with showing how to build a Twitter web app. It's very hands-on with lots of example code and code references.
To get the most from this book you should already be familiar with the jQuery framework as well as HTML5 and CSS3 since these topics are not thoroughly covered.
New Beta 1 release
You should be aware that it's the Alpha 4 release of jQuery Mobile that's described in the book. As of now jQuery Mobile is in Beta 1 and is expected to make version 1.0 by the end of this summer.
I've noticed some differences between the current version and what's being described in the book. But these are minor differences and shouldn't cause any serious problems (See the Beta 1 Release Notes for more info).
Jon states in the preface of the book that "As jQuery Mobile advances, we hope to update this ebook to cover new features and provide new tips and techniques.". So hopefully the version you will read will be updated to reflect these recent changes.
Conclusion
For me this book has given me a head start building the mobile version of a web app that I'm currently developing. (Stay tuned for more info as I plan to release it by the end of this summer). I think Jon has done a great job introducing the framework in a concise and hands-on manner. If you're planning to create a mobile web app and are considering using jQuery Mobile, you should definitely read this book to:
see if jQuery Mobile is something you should use
to get at head start using it in your project
All in all I recommend this book for anyone wanting to dip their toes in mobile web development.
Book information
Title:

jQuery Mobile

Author:

Jon Reid

Publisher:

O'Reilly Media (July 7, 2011)

Pages:

130

ISBN:

1449306683

ISBN-13:

978-1-449-30668-7
Check out jQuery Mobile on Amazon
Note: I wrote this review for O'Reilly's Blogger Review Program. Their deal is pretty good: You get a free e-book to read and once you post a review you get another. Try it yourself if you're interested in reviewing books.