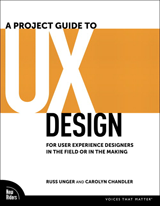 Just like the subtitle: "For User Experience Designers in the field or in the making", implies this is a book for persons that are not yet experts in the UX field. It's a wonderful read and really gives a great overview of the UX design role in modern web site development.
One thing to notice is that this book is about processes rather than how to actually design things. So if your looking for a design book this is not it. If on the other hand you're looking for a book about the process of coming up with the design for web sites and web applications this is definitely a great book. It doesn't go into great detail about each specific part of the process but provides a good overview and includes many great pointers to other resources.
The book is really hands on. It provides lots of descriptions of how to actually do things. Like signing a contract with the customer or choosing the right user research method.
The structure of the book
The first few chapters of the book is about the different roles of a UX designer in a project team. It's also about how to create proposals and how to plan the project.
The Tao of UXD
The Project Ecosystem
Proposals for Consultants and Freelancers
Then there's a few chapters about how to gather initial business requirements and how to do initial user research. There's also a chapter about how Search Engine Optimization fits in the UX process.
Project Objectives and Approach
Business Requirements
User Research
Personas
User Experience Design and Search Engine Optimization
The last chapters of the book is about how to transition from defining to designing. They describe different techniques and approaches of coming up with the structure and design of the site. Examples of techniques are Site Maps, Task Flows, Wireframes and Prototypes. There's also a chapter on how to perform usability tests with users and lastely there's a chapter on how to transition from design to the actual development of the site.
Transition: From Defining to Designing
Site Maps and Task Flows
Wireframes and Annotations
Prototyping
Design Testing with Users
Transition: From Design to Development and Beyond
Bonus material
The book comes with a bonus, online-only chapter called A brief Guide to Meetings (pdf). I suggest that you download that chapter and read it to get a sense of the style of the book. There's also an online chapter from the book available at the Peachpit website. The chapter is called Project Objectives and Approach.
Apart from those there's additional documents and templates available at the download area of the book site.
Final thoughts
The book is really well edited. I haven't been able to find a single typo. I found it very enjoyable to read and even if a lot of the information was familiar to me there were still grains of gold to be found. The best chapter for me was Chapter 9 – Transition: From Defining to Designing. It described different approaches on how to come to consensus about what the primary goals of the projects are that I really haven't thought of before.
If you want an overview of the UX design process and an introduction to different UX techniques and approaches, read this book! I highly recommend it!
Book information
Title:

A Project Guide to UX Design

Author:

Carolyn Chandler and Russ Unger

Publisher:

New Riders Press; 1 edition (March 23, 2009)

Pages:

288

ISBN:

0-321-60737-6

ISBN-13:

978-0-321-60737-9
Buy from Amazon.com

Buy from Adlibris.com
(Sweden)
Further resources