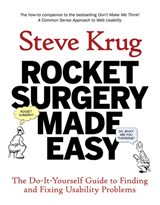 This latest book from Steve Krug is a terrific read and a great companion book to his legendary and highly successful book, Don't make me think. Where Don't make me think focus on design and the ifs and whys of usability testing, Rocket Surgery Made Easy focuses on how to actually conduct usability test and what to do with the results.
As always Steve's writing style is relaxed but still to the point. He's very humorous and there are a lot of things in the book that makes me smile. The book is nicely designed and is rich with illustrations that breaks up the text and make it more enjoyable to read. It's not a long book. As he states himself, it's short enough to read on a long flight. I think that's a good thing.
I really enjoy Steve's pragmatic approach to the subject. He manages to demystify the subject and make the case that anyone, well almost anyone, can perform usability tests and benefit greatly from it. Throughout the book he delivers maxims which contains the most important points. Two of my favorites are "A morning a month, that's all we ask" and "Start earlier than you think makes sense".
The book also contains lots of extra material, such as sample test scripts, a consent form and a video of him actually performing a usability test. You can watch the video yourself from the book's companion site. I think that these add greatly to the value of the book since they provide you with concrete tools to get started.
Conclusion
If you're interested in usability testing, already do them or plan to start doing them, this is definitely a book for you. It does not have all the answers but will provide you with all the information you need to get started. If you've conducted usability test before I'm sure that you will still find lots of useful information.
All in all this is a great book and I highly recommend it! If you haven't read his first book, Don't Make Me Think
already, I highly recommend that you read it too.
Book information
Title:

Rocket Surgery Made Easy

Author:

Steve Krug

Publisher:

New Riders Press; 1 edition (December 18, 2009)

Pages:

168

ISBN:

0-321-65729-2

ISBN-13:

978-0-321-65729-9
Buy from Amazon.com

Buy from Adlibris.com
(Sweden)
Further resources