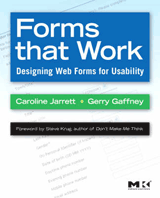 Forms that Work is a book on how to design web forms properly. Some time ago I reviewed a similar book, Web Form Design by Luke Wroblewski, which deals with the same subject. I then thought that this was a very narrow scope for a book, but perhaps it was not since this book was published shortly after.
No doubt web forms are all around us, so the need for knowledge and skill to design them well should be great. I certainly can't seem to get enough of these books. One thing that's great about this book is that it not only focuses on how to visually design forms but  more so on why people should bother to fill them out  in the first place. That's a pretty important question to ask, and one that can have a dramatic impact on the success of your form.
The three layers of the form
The authors introduces the concept of the three layers of the form. The book is organized around these three layers, so each layer has it's own part.
The first layer is about the relationship between the organization behind the form and the user.
The second layer is about conversation. That is how the form talks to the user with it's questions, labels and instructions. It's also about how to logically group different kinds of information.
The third layer is about the appearance of the form. Here's where the design of the form is discussed. It's also here where Caroline Jarrett gets to talk about her favorite topic, whether to put a colon at the end of the labels or not. (she doesn't think it's important :-), read why)
I think that this way of organizing the book works very well. It supports the design process presented and gives you a good understanding of what to focus on.
My take
I found Forms that Work fun and easy to read. It's filled with illustrations and real-life examples, which makes it easy to understand how to put the concepts into practice. What I love about this book is that it's compact and succinct. The authors deliberately decided to keep the book under 200 pages which I think was a very wise decision. The nitpicks I have is that I found quite a few typos. I also sometimes felt that the illustrations didn't quite had the quality that I'd expect from a book like this. That said, these are only minor complaints and ones that shouldn't prevent you from reading this otherwise excellent book.
Conclusion
This book will give you tips and guidelines that gets you started right away creating better web forms. The authors back their advice up with years of designing and usability testing forms, so you can feel pretty confident that they deliver good advice. There's no doubt that after reading this book you will be able to design better forms. I highly recommend it.
Book information
Title:

Forms that Work: Designing Web Forms for Usability

Author:

Caroline Jarrett and Gerry Gaffney

Publisher:

Morgan Kaufmann (November 17, 2008)

Pages:

199

ISBN:

1-558607-10-2

ISBN-13:

978-1558607101
Check out Forms that Work: Designing Web Forms for Usability on Amazon.com