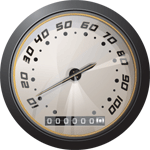 I recently read Andy B. King's book Website Optimization and was surprised by some of the statistics in it. It shows that there's a very clear connection between page load times and conversion rates. Statistics from Google and Amazon show that an increase in load time has a direct and profound impact on user engagement.
The results
For Google an increase in page load time from 0.4 second to 0.9 seconds decreased traffic and ad revenues by 20%. For Amazon every 100 ms increase in load times decreased sales with 1%.
I'm surprised that such relatively small changes in load times had such a massive impact on conversion rates.
The importance of speed
These statistics makes me even more convinced that speed is one of the most important factors for how users experience your application/web site. According to Andy speed is crucial for engaging the user.
Speed is the most important factor, after site attractiveness, to increasing flow in users. People who are more engaged while browsing your site will learn faster and show an improved attitude and behavior toward your site

– Andy King, Website Optimization, page 148
Decrease in tolerance for load times
A rule of thumb have been that if page load time exceed 8 to 10 seconds, the user's frustration increases. Newer research has shown that about a third of all broadband users are reluctant to wait more than 4 seconds for a web page to load. For narrowband users almost half of them won't wait more than six seconds.
Optimize for speed
It has always been important to optimize for speed, but maybe it's even more important now than before. The audience is more demanding and the competition is harder. A great start if you want to learn more about how to optimize your site is Andys book, Website Optimization.
Illustration by Paul Moline Designs